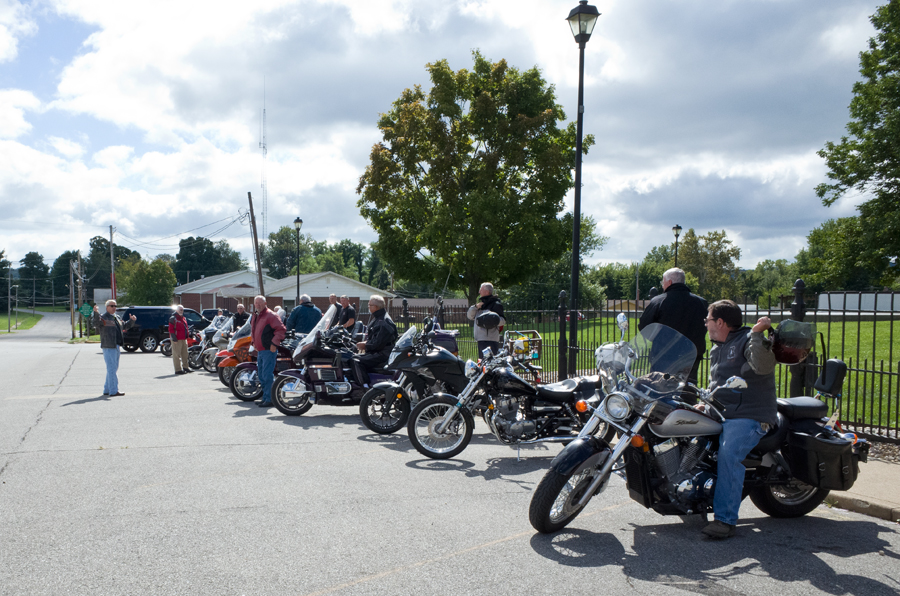 Southern Indiana Motorcycle Routes
Indiana's Historic Pathways North Route – 169 miles
This route follows US 50 from the Illinois border to the Ohio Border. With Indiana's oldest city of Vincennes on one end and the Ohio River town of Lawrenceburg on the other, this National Scenic Byway features beautiful rural landscapes, limestone outcrops and river views.
Indiana's Historic Pathways South Route – 70 miles
Don't miss the hidden treasures on the start of this route in Shoals. The famous Jug Rock is an incredible natural geological sandstone formation located just west of White River Bridge on US 50 near Shoals. Stop at Overlook Park or Overlook Rentals for a breathtaking view of the East Fork White River. Stop at West Baden Springs and French Lick for incredible historic architecture and world famous spas and casinos. Pass through Paoli's beautiful town square and encounter more scenic countryside as you continue south along US 150 through Washington and Harrison Counties. There are opportunities to visit a winery, canoe the Blue River in Washington County, or make a stop at Buffalo Trace Park in Harrison County at Palmyra. In New Albany, Clarksville, and Jeffersonville, make stops at Culbertson Mansion, Falls of the Ohio State Park, Howard Steamboat Museum and Schimpff's Confectionery, a 128-year-old candy shop and museum.
Indiana State Route 450 – 29 miles
Running from Shoals to Bedford, this scenic route follows southern Indiana's White River. Don't miss the famous Jug Rock table rock formation in Shoals and Williams Covered Bridge off of Huron and Williams Rd.
Salem to Charlestown – 31 miles
This hilly route ends at Charlestown State Park, home of Rose Island, an abandoned amusement park hikers are welcome to explore.
Ohio River Scenic Byway – 302 miles
Running from the Illinois border to the Ohio border, pick a section of this route to ride or tackle the whole thing! The Ohio River Scenic Byway in Southern Indiana is your gateway to adventures. Discover antique shops, artist studios and farm markets. Paddle a canoe, explore a cave, camp under the stars. Tour stately mansions, sample artisan wines and stay at a bed & breakfast inn. Try your luck at a casino.
View sample itineraries
.
Southeast Indiana Loop – 102 miles
Southeast Indiana is full of beautiful old river towns including Madison, Vevay, Aurora and Lawrenceburg. This route features beautiful river views, waterfalls at Clifty Falls State Park and one of Indiana's most beautiful downtowns in the town of Madison. If you're feeling lucky, take a short side trip to Belterra Casino in Florence. Pass by scenic countryside and Amish farms on Route 62.
Bloomington to Ohio River – 117 miles
See the best of what southern Indiana has to offer with this scenic route from Bloomington to the Ohio River. Attractions and towns along the route include Indiana University, the charming artist town of Nashville, Brown County State Park (THE place for fall foliage in Indiana), Starve Hollow State Recreation Area, and Corydon which is Indiana's first state capital. Pull off to Corydon to visit the original Indiana State Capitol Building and Battle of Corydon Memorial Park, site of Indiana's only Civil War battle. Finally, visit Squire Boone Caverns, discovered by Daniel Boone and his brother Squire Boone. If you're feeling adventurous, you can even visit Squire Boone's casket inside the cave.
Central Ohio River Loop – 115 miles
Visit charming river towns on this southern Indiana route. You'll ride along the Ohio River and through the Hoosier National Forest. Swing by Leavenworth's famous "The Overlook" restaurant for a stunning view of the Ohio River's scenic Horseshoe Bend. You'll also pass by the Cannelton Locks and Dam on SR 66.