Outdoor Adventure
Craving outdoor outdoor adventure? Indiana's Historic Pathways is home to unique landscapes in southern Indiana and features tons of fun outdoor activities such as caving, hiking, canoeing & more.
Falls of the Ohio State Park and Interpretive Center
201 West Riverside Drive
Clarksville, IN 47129
812-280-9970
Travel back to when Southern Indiana was covered by a salt water sea as you discover the world-renowned fossil beds that date back 400 million years. There are 220 acres of exposed Devonian fossil beds to explore. The Interpretive Center features a full-size mammoth skeleton, plus there are exhibits on geology, history, and cultural development of the Falls of the Ohio. Two spectacular audiovisual shows are also offered.
Blue River-Indiana's First Natural Scenic River
112 Main Street
Milltown, IN 47145
812-365-2705 or 888-702-2837
Considered one of Indiana's purest streams, this spring-fed river provides approximately 30 miles of waterway for fishing, swimming, and canoeing.
Marengo Cave US National Landmark

400 East State Road 64
Marengo, IN 47140
888-702-2837
Creating wonderful family memories since 1883, the cave offers two walking tours, gemstone mining, the Maze Crawl, a gift shop, walking trails, picnic grounds, and more.
Squire Boone Caverns
100 Squire Boone Road
Mauckport, IN 47142
812-732-4381
Explore caverns discovered in 1790 by Squire and Daniel Boone, plus a pioneer village featuring arestored 1804 girst mill, soap making, candle dipping, gemstone mining and a candy factory.
Indiana Caverns – Indiana's Longest Cave
1267 Green Acres Drive SW
Corydon, IN 47112
812-734-1200
Indiana's newest show cave, part of the Binkley Cave System, boast amazing waterfalls, an underground river, diverse cave life, and rich history.
Buffalo Trace Park
1540 U.S. Highway 150
Palmyra, IN 47164
812-364-6112
Buffalo Trace Park is a 147 acre park that features a 30 acre manmade lake for swimming and fishing, camping, canoe rental, paddle boat rental, lighted walking trail, petting zoo, and much more.
Muscatatuck National Wildlife Refuge
12985 East U.S. Hwy 50
Seymour, IN 47274
812-522-4352 or 800-877-8339 (Federal Relay)
The 7,800-acre national wildlife refuge land and waters are protected and managed for wildlife and its habitat with a special emphasis on waterfowl, migratory birds, and endangered species. Open seven days a week, sunrise to sunset.
Jackson – Washington State Forest/Skyline Drive
1278 East State Road 250
Brownstown, IN 47220
812-358-2160
jackstfor@dnr.IN.gov
www.in.gov/dnr/forestry/4820.htm
Situated two miles from U. S. Hwy. 50, the forestry, which encompasses more than 7,000 acres in Jackson County, is part of the knobs topographical region of Southern Indiana and offers scenic views from Skyline Drive and other vistas, hiking, biking, camping, fishing, and horseback riding.
Starve Hollow State Recreation Area
4345 South County Road 275 West
Vallonia, IN 47281
812-358-3464
Starve Hollow is located 4.5 miles from U.S. Hwy. 50 near the location of Jackson County's oldest community, Fort Vallonia. It was constructed in 1938 and offers a 145 acre lake, fishing, camping, hiking, swimming, and fun.
Big Oaks National Wildlife Refuge
1661 West Niblo Road
Madison, IN 47250
812-273-0783
Located in a former U.S. Army proving ground, Big Oaks is the largest National Wildlife Refuge in Indiana. Visitors must go through a safety briefing before entering the refuge. With its limited human access through the years, nature has been well preserved for the wildlife. Hunting and fishing are permitted with valid licensing and an access permit into the refuge.
Muscatatuck Park/Walnut Grove One Room School
325 North State Highway 3 & 7
North Vernon, 47265
812-346-2953 or 800-928-3667
Enjoy amenities such as camping, fishing, hiking and mountain-biking trails, basketball and sand volleyball courts, soccer, baseball, and open fields, playground and picnic areas, shelters, wildlife marshes, and bouldering and climbing. The Walnut Grove School is restored to the 1913-1925 time frame and is open for tours.
Bluespring Caverns
1459 Bluespring Caverns Road
Bedford, IN 47421
812-279-9471
Situated two miles off U.S. Hwy. 50, Bluespring Caverns is the Nation's Longest Underground River and is open April through October.
Jug Rock
U.S. Hwy 50
Shoals, IN 47581
Just off U.S. Highway 50 at Shoals stands the incredible natural geological sandstone formation, Jug Rock. The 60-foot high formation stands alone with no adjacent ledge and is one of the largest free-standing table rock formations in the United States.
Pinnacle Rock
U.S. Hwy 50
Shoals, IN 47581
Among several geological wonders which can be found on West River Road just off U.S. Hwy 50 at Shoals is the astonishingly beautiful Pinnacle Rock, a massive sandstone formation with a vertical descent of over 200 feet.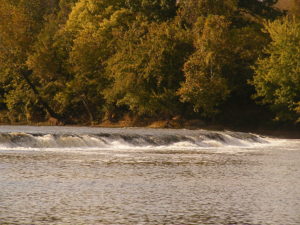 Hindostan Falls
Hindostan Falls, IN
Located on the White River, Hindostan Falls was once the site of an 1800s community and pioneer courthouse. A grist mill was once located on a large flat rock at the base of the 10-foot falls. Today, Hindostan Falls is a public fishing and picnic area located on SR 550 just four miles east of Loogootee.
Martin State Forest
14040 Williams Road
Shoals, IN 47581
812-247-3491
Scenic rugged hills and vistas can be found at the Martin State Forest. Facilities include a primitive campground, picnic areas and shelter houses, hiking trails, mountain bike trail, fishing, fire tower, and arboretum for tree identification.
Overlook Park
Shoals, IN
Situated 1.2 miles west of Shoals at the intersection of U.S. Hwy 50 and SR 450, Overlook Park provides a scenic view of the winding White River and adjacent farms and valleys. Facilities include a shelter house, picnic tables, and restrooms.
Rise of the Lost River – Orangeville
Orange County, Indiana
812-936-2405
Contact: French Lick Springs/West Baden Chamber of Commerce
The Lost River flows underground 22.5 miles from Orleans to Orangeville. The rise is one of the largest karsts springs found in the Midwestern United States. This spring is where the Lost River surfaces above ground and continues to flow above ground to the White River.
Pioneer Mothers Memorial Forest- Cox Woods
Hoosier National Forest Office
811 Constitution Avenue
Bedford, IN 47421
812-275-5987 or 866-302-4173
This 88-acre tract is the last old-growth forest in Indiana and has been left untouched since 1816.
Versailles State Park
U.S. Highway 50
Versailles, IN 47042
812- 689-6424
Enjoy the beauty of Versailles State Park located on U.S. Hwy. 50 – hike, horseback ride, swim, camp, bike, fish, or relax during the annual Bluegrass Festival.
Busching Covered Bridge
US Hwy. 50
Versailles, IN 47042
Drive back into time and enjoy the view of Laughery Creek as you go over the 1885 Busching Covered Bridge, just off U.S. Hwy. 50 near the Versailles State Park entrance.
Otter Creek Covered Bridge (near Holton)
Less than two miles north of U.S. Hwy. 50 on Co. RD. 850W near Holton, you'll find the Otter Creek Covered Bridge, a great setting for relaxation and a picnic.
You May Also Like