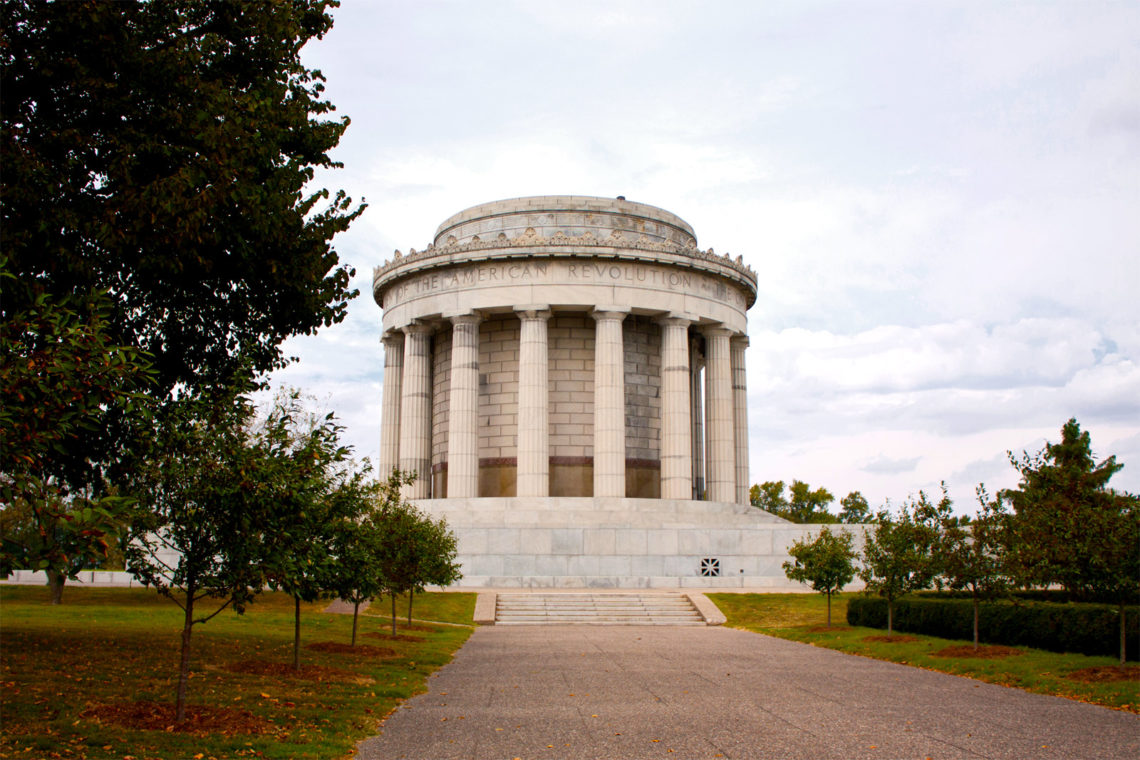 Arts & History
Southern Indiana is full of history & culture. Explore Devonian era fossil beds at Falls of the Ohio, tour one of the many architectural wonders in the region, visit downtown shops including handmade art glass, or learn about the state's early history at the former capitals of Vincennes & Corydon.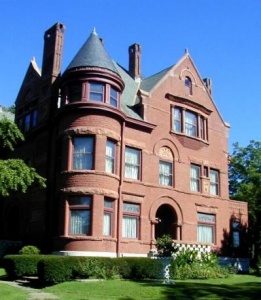 Howard Steamboat Museum
1101 East Market Street
Jeffersonville, IN 47130
812-283-3728 or 888-472-0606
A 22-room, late-Victorian mansion features stained and leaded glass windows, intricate hand-carved and original furnishings. Artifacts and models of famous boats built in the Howard Shipyards are exhibited.
Schimpff's Confectionery
347 Spring Street
Jeffersonville, IN 47130
812-283-8367
For a taste of nostalgia and to satisfy your sweet tooth, stop by and this 125 year old candy shop in Jeffersonville. Famous for cinnamon red hots. Schimpff's is a fourth generation, family owned business that features a soda fountain, the original tin ceiling, antique memorabilia, and tasty candies.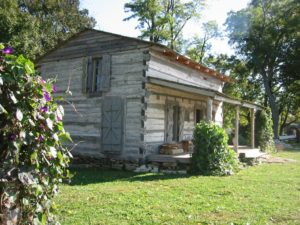 George Rogers Clark Cabin Homesite and Departure site of the Lewis and Clark Expedition at Falls of the Ohio State Park
Harrison & Bailey Avenues
Clarksville, IN 47129
812-280-9970
A replica of a cabin built by General George Rogers Clark in 1803. Departure site of the Lewis and Clark Expedition to explore the Louisiana Purchase territory.
Falls of the Ohio State Park and Interpretive Center
201 West Riverside Drive
Clarksville, IN 47129
812-280-9970
Travel back to when Southern Indiana was covered by a salt water sea as you discover the world-renowned fossil beds that date back 400 million years. There are 220 acres of exposed Devonian fossil beds to explore. The Interpretive Center features a full-size mammoth skeleton, plus there are exhibits on geology, history, and cultural development of the Falls of the Ohio. Two spectacular audiovisual shows are also offered.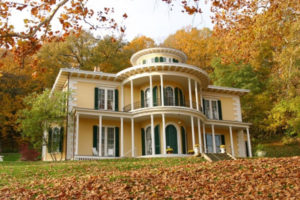 Hillforest Victorian House Museum
213 Fifth Street
Aurora, IN 47001
Hillforest is a restored 1855 mansion overlooking the Ohio River. It is listed on the National Register of Historic Places and is a designated National Historic Landmark.
Veraestau House Museum
4696 Veraestau Lane
Aurora, IN 47001
812-926-0983
Situated 427 feet above the Ohio River, this early-19th century country estate is located high on a bluff overlooking the Ohio River outside of the small town of Aurora.
Dubois County Museum
2704 North Newton Street
Jasper, IN 47546
812-634-7733
Known as the largest county museum in the state of Indiana, this museum showcases the rich German heritage and history of the Dubois County area and features a six-foot-tall, stuffed buffalo named "Trace."
St. Joseph Church
1029 Kundek Street
Jasper, IN 47546
812-482-1805
Listed on the National Register of Historic Places, this magnificent 1880 Romanesque, old world style church was built by the early parishioners and showcases priceless German stained glass windows.
Scribner House
106 East Main Street
New Albany, IN 47150
812-949-1776
contact@scribnerhouse.org
See evidence from an era long ago. The Scribner House was built in 1814 by the Scribner Family. The first frame house built in New Albany is owned by the Daughters of the American Revolution (DAR).
Culbertson Mansion State Historic Site
914 East Main Street
New Albany, IN 47150
812-944-9600
A Victorian mansion that stands as an impressive tribute to one of Indiana's leading merchants and philanthropists, William Culbertson.
Mansion Row National Register of Historic Places District
Main Street and Market Street
New Albany, IN
Main and Market Streets, New Albany Collection of homes, churches, and distinctive commercial buildings that have been carefully restored, providing a glimpse of life during New Albany's "Age of Elegance." This area includes many bed and breakfasts, wedding chapels, reception halls, and the Culbertson Mansion.
Town Clock Church (Second Baptist Church)
300 East Main Street
New Albany, IN 47150
812-945-3814
Greek Revival church has been a New Albany landmark since 1852 when it was completed by the congregation of the Second Presbyterian Church; the church is said to have been a way-station on the Underground Railroad before the Civil War, aiding runaways with food, clothing, and other kinds of assistance.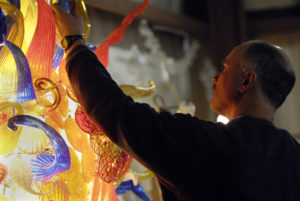 Zimmerman Art Glass Factory
395 Valley Road
Corydon, IN 47112
812-738-2206
With the tools they learned to use as children, Zimmerman Art Glass carries on a family tradition that has continued through four generations. Makers of handmade glassware, Zimmerman's make 110 different pieces such as paperweights, fruit and holiday ornaments. Visitors can watch a first hand demonstration of off-hand glassmaking.
New Albany National Cemetery
1943 Ekin Avenue
New Albany, IN 47150
502-893-3852
The New Albany National Cemetery was established in 1862 to accommodate the burial of soldiers posted at the training center. By November 1870, more than 2,000 known dead and 698 unknowns were buried here. Placed on the National Register of Historic Places in 1999.
Corydon Capitol State Historic Sites
126 East Walnut Street
Corydon, IN 47112
812-738-4890
The Corydon State Historic Site commemorates the history of Indiana's first state capitol.
Medora and Shieldstown Covered Bridges
Jackson County, IN
As you travel U.S. Hwy. 50 in Jackson County, you will be passing near the sites of two covered Bridges; Shieldstown (1876), which uses a multiple King Post design with a Burr Arch Truss system; and Medora (1875), the longest historic covered bridge in the U.S. The Medora Covered Bridge has recently been restored and is open to pedestrian and bicycle traffic.
Downtown North Vernon and the Historic Park Theater
25 Madison Ave
North Vernon, IN 47265
812-346-0330
At the turn of the century, North Vernon's railroad system represented the sixth largest railway center with more than 100 trains arriving and departing daily. Visit the Historic Park Theater, a restored 1916 movie house, now home to movies, live entertainment, and festivals.
Muscatatuck Park/Walnut Grove One Room School
325 North State Highway 3 & 7
North Vernon, 47265
812-346-2953 or 800-928-3667
Enjoy amenities such as camping, fishing, hiking and mountain-biking trails, basketball and sand volleyball courts, soccer, baseball, and open fields, playground and picnic areas, shelters, wildlife marshes, and bouldering and climbing. The Walnut Grove School is restored to the 1913-1925 time frame and is open for tours.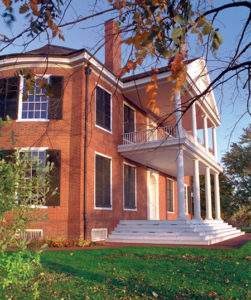 Grouseland
3 West Scott Street
Vincennes, IN 47591
812-882-2096
Home of William Henry Harrison, first governor of the Indiana Territory and ninth president of the United States. Tour the beautifully restored 1803 mansion.
Old Cathedral Complex
205 Church Street
Vincennes, IN 47591
812-882-5638 or 800-886-6443
Historic Cathedral and French and Indian cemetery. See Indiana's oldest library, founded in 1794, featuring 15th – 19th century books.
Vincennes State Historic Sites
1 West Harrison Street
Vincennes, IN 47591
812-882-7422
Where Indiana began! Tours of the first college, first capitol, first print shop, and more replicate frontier life from 1800-1813.
Old French House & Indian Museum
509 North 1st Street
Vincennes, IN 47591
812-882-7742 or 800-886-6443
Home of fur trader Michell Brouillet, built in 1806. Great example of French Creole architecture.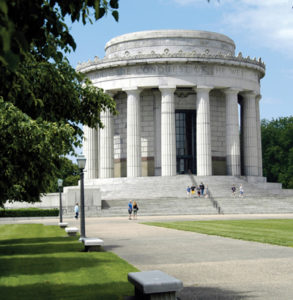 George Rogers Clark National Historical Park
401 South Second Street
Vincennes, IN 47591
812-882-1776
George Rogers Clark's conquest of the Old Northwest Territory is the theme of this national historical park. See the largest memorial outside Washington, D.C.!
Indiana Military Museum
715 South 6th St.
Vincennes, IN 47591
812-882-1941
Military memorabilia from the Civil War to Desert Storm, featuring vintage tanks, aircraft, and more!
Foote's Tomb
North of intersection of D Street and 16th Street (US 50) in Bedford
Carved out of a huge limestone boulder, the tomb marks the grave of Dr. Winthrop Foote, who owned much of this stone-laden valley and is considered the father of Bedford limestone development. The stone for Chicago's City Hall and Court House, the Indiana State house, and Vanderbilt's mansions in New York City came from Foote's original Blue Hole Quarry near this spot in Bedford.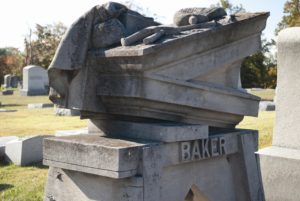 Greenhill Cemetery
1202 18th Street
Bedford, IN 47421
812-275-5110
Greenhill Cemetery is a wonderful example of early limestone carving. Walking tours of the cemetery are available.
Lawrence County Museum of History
929 15th Street
Bedford, IN 47421
The museum is housed in the 100 year old Hamer-Smith building at 929 15th Street in Bedford, Indiana. The Lawrence County Museum of History is home to many interesting artifacts that showcase the history and heritage of Lawrence County. You will find the gallery cases arranged thematically with collections focusing on military history, antique clothing, school history, and many other topics.
Martin County Museum
220 Capital Avenue
Shoals, IN 47581
812-247-1133
Located in the 1876 courthouse which is listed on the National Register of Historic Places, the Martin County Museum is a beautiful example of turn of the century architecture and is filled with a treasure of Martin County history. Open Monday, Wednesday, and Friday 10–4. Closed during the winter months.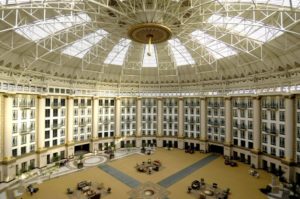 French Lick Resort & Casino + West Baden Springs Resort
8670 West State Road 56
French Lick, IN 47432
812-936-9300 or 888-936-9369
Includes the West Baden Springs Hotel and French Lick Springs Hotel, both fully restored to their early 1900s original grandeur. The two hotels offer luxury rooms, fine dining, European spas, beautiful gardens, golf, and other amenities.
Milan '54 Basketball Museum (inspiration for the movie "Hoosiers")
201 West Carr Street
Milan, IN 47031
812-654-2772
Come and relive the exciting moments of the Milan '54 Basketball State Championship Game and find out why the story inspired the movie "Hoosiers" at the '54 Basketball Museum, five miles north of U.S. Hwy. 50.
Busching Covered Bridge
US Hwy 50
Versailles, IN
Drive back into time and enjoy the view of Laughery Creek as you go over the 1885 Busching Covered Bridge, just off U.S. Hwy. 50 near the Versailles State Park entrance.
Otter Creek Covered Bridge (near Holton)
Less than two miles north of U.S. Hwy. 50 on Co. RD. 850W near Holton, you'll find the Otter Creek Covered Bridge, a great setting for relaxation and a picnic.
Beck's Mill
4433 South Beck's Mill Road
Salem, IN 47167
812-883-5147
Visit a restored 150-year-old mill on a 200-year-old farm and learn about the rich rural history of southern Indiana.
The John Hay Center
307 East Market Street
Salem, IN 47167
812-883-6495
This historic site features the preserved birthplace of John Milton Hay who public career as a secretary to Abraham Lincoln and served several positions under five different U.S. Presidents, the Stevens Musuem which feature exhibits about Washington County history, a restored railroad depot and a pioneer village.
Tyson Temple United Methodist Church
324 West Tyson Street
Versailles, IN 47042
812-689-6976
Situated two blocks north of U.S. Hwy. 50, the Tyson Temple United Methodist Church, dedicated in 1937, is truly a unique church built of materials from around the world, with no nails except those in the pews.
You May Also Like